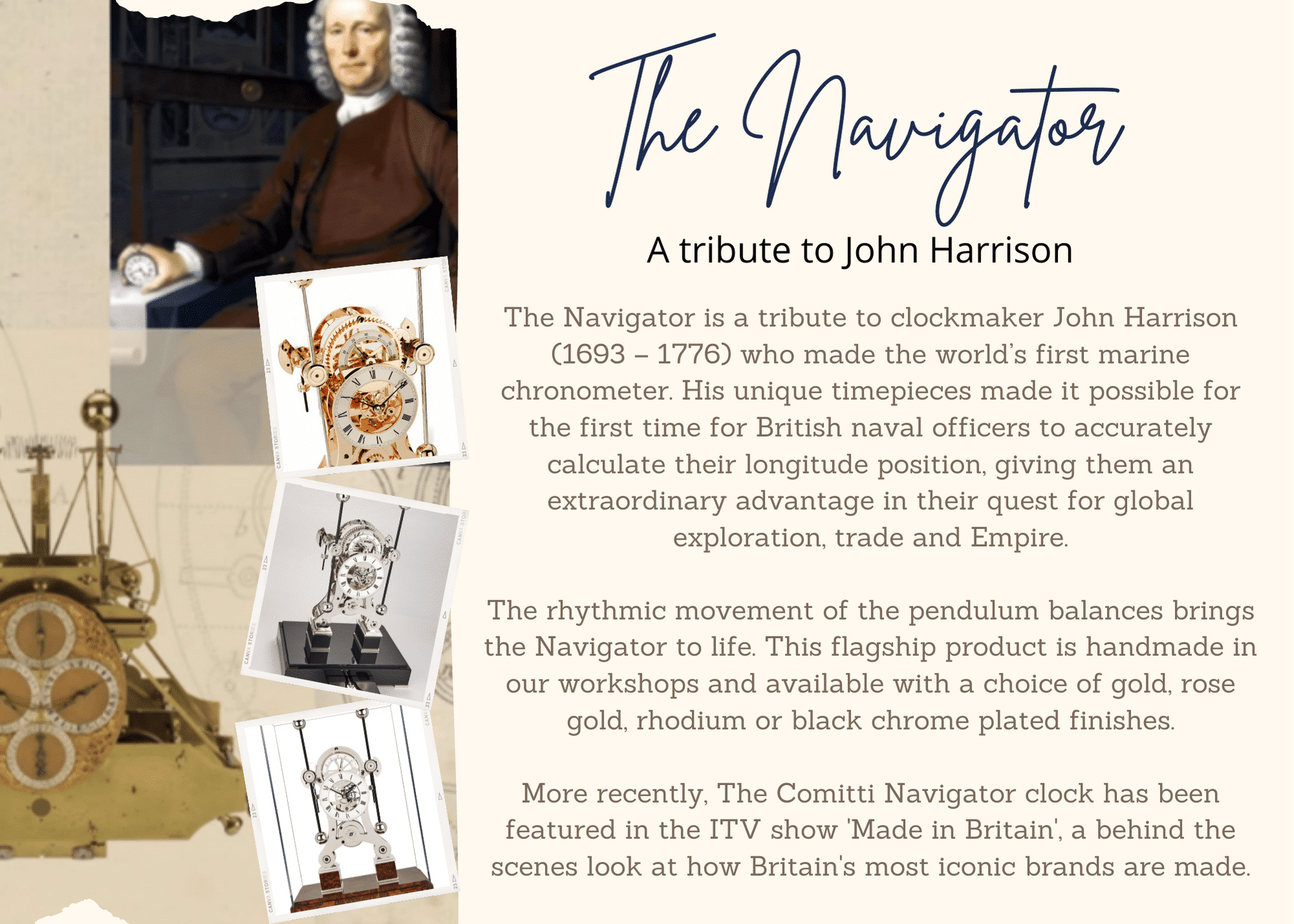 A limited edition of 100 pieces worldwide makes this Navigator a highly collectable timepiece. Each piece is numbered and supplied with a Certificate of Authenticity.  The Navigator features a handmade movement that has a superb rose gold plated finish and a burr walnut gloss lacquered base.   Comitti of London have been makers of the finest quality clocks and barometers for over 150 years. Many of the styles made in the early days continue to be available today, they are recognised as English classics and the originals sought after as valuable antiques. The company continues to this day, as a family run business, designing and making traditional and contemporary pieces. A superb contemporary version of The Navigator based on the world's first marine chronometer created by John Harrison. The movement is handmade from solid brass, polished and rose gold plated. The dial has an enamel finish and the time is indicated by fine Breguet hands. The seconds are indicated by the scale above the clock face. The timepiece is mounted to a lacquered base with a key drawer and protected by a crystal glass canopy. The cabinet has a high gloss timber finish. The fusee movement has an 8 day power reserve.
Unique sold brass rose plated movement
Fusee mechanism and maintaining power to improve accuracy
Eight day power reserve
White enamel finish chapters with Roman and Arabic numerals and fine Breguet hands to indicate the time and passing seconds
Piano high gloss burr walnut timber base with key drawer
Crystal glass mitred canopy to protect the movement
Serial numbered movement with a Certificate of Authenticity
Dava Sobel's book 'Longitude' is included with each timepiece
The Navigator is protected by a presentation travel case
Dimensions: 48cm High x 32cm Wide x 23cm Deep.
If you have any questions regarding this product, please click below to call us Free