Matthias Naeschke
The epitome of the finest clock-making. Creative spirit and exquisite materials coupled with perfect designs are universal characteristics of exquisite craftsmanship. These are the principles Matthias Naeschke use to build their range of precision mechanical clocks and they are the sole makers of organ clocks in the world today.
Over the years Naeschke have become the epitome of the finest clock-making – not only within Germany but worldwide. Following the principles of classical horology every clock of their small factory embodies the pursuit of creating unique masterpieces. The name of Matthias Naeschke represents the finest mechanics in exceptional clocks.
The attention to detail of every clock is nothing less than exquisite.  These statement pieces are pure elegance and sophistication and will take pride and place within your home.
---
With the high quality and perfection of our handcrafted movements, we go far beyond the possibilities of any industrial production
---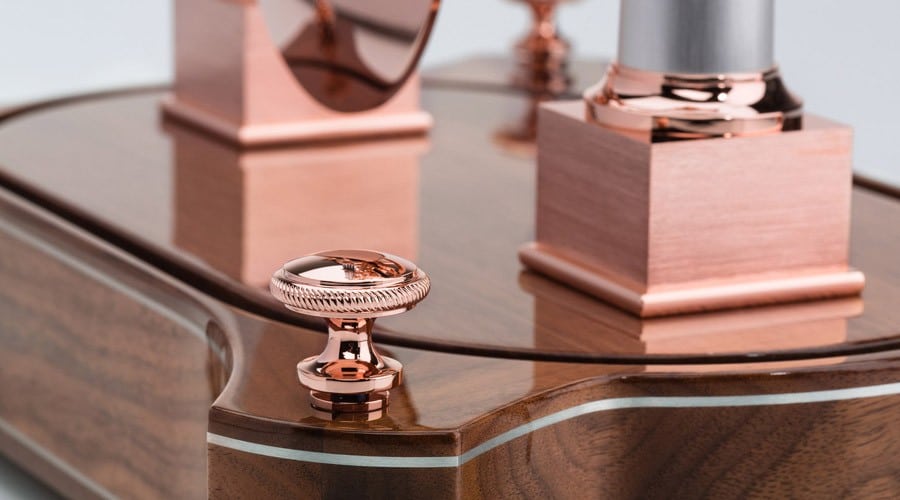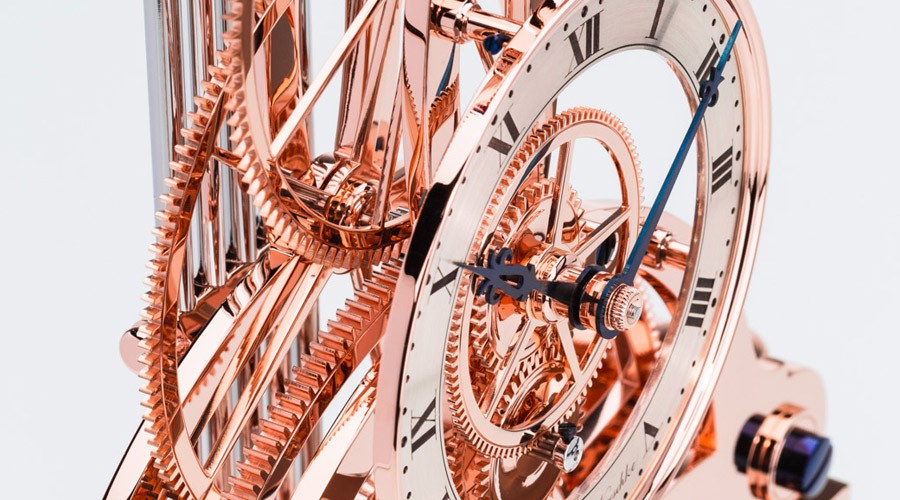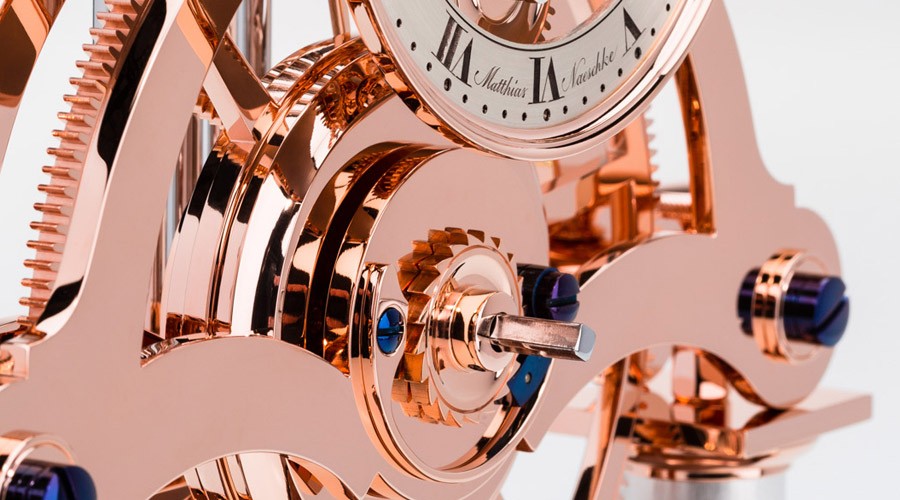 Clock-maker and musician with heart and soul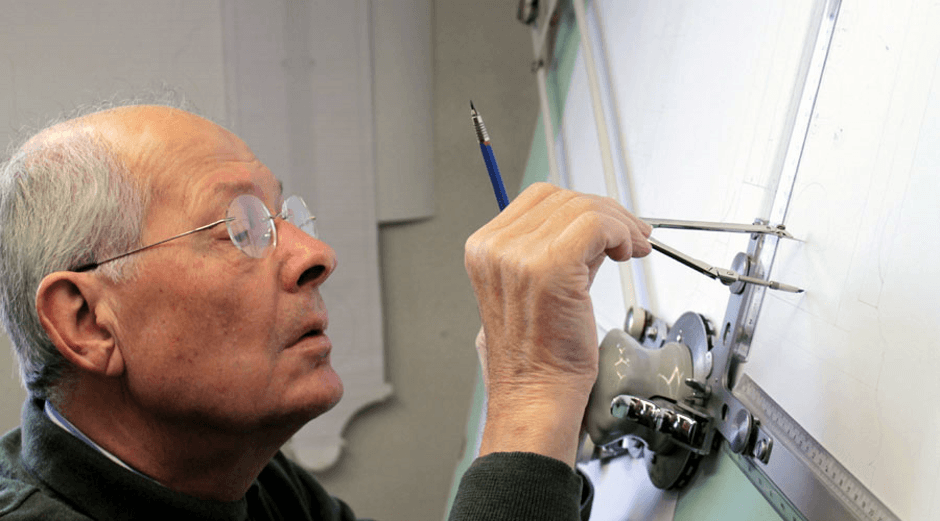 Sebastian Naeschke (born 1971) is the second generation of clock-makers at Naeschke after his father and is also an enthusiastic musician. After graduating from high school, Sebastian Naeschke took to the renowned precision engineering school in Villingen-Schwenningen, and from then on he also dedicated himself to clock-making.
After successfully completing his clock-making and civilian service, he first went abroad. Sebastian Naeschke gained valuable experience over several years as a clock-maker at the IWC in Schaffhausen and became a specialist for split-seconds chronographs. As a studio manager for Helmut Sinn, he also demonstrated his skills and in-depth knowledge of the design and construction of wristwatches from the Guinand, Chronosport and Jubilar brands. In 1999 he switched to his father's company, which he now runs as managing director together with his father. 
Matthias Naeschke (born 1943) is a skilled clock-maker, technical designer and church organist. For some years he was working in the finest jewellery shops of Switzerland and England. After his technical studies, he developed and designed mechanical movements for several industrial companies. At that time the era of hand-crafted production of clocks was nearly at an end.
Matthias Naeschke started in 1984 in a small atelier in his private home to build organ clocks. Thus he was the first organist artisan in 150 years to study the art and revive the high craft of the organ-clockmaker. Today, Matthias Naeschke and his workmen are the only makers of new organ clocks in the world today. The objective of Matthias Naeschke is to develop classical craftsmanship, find new solutions and to explore physics in the realms of high horology.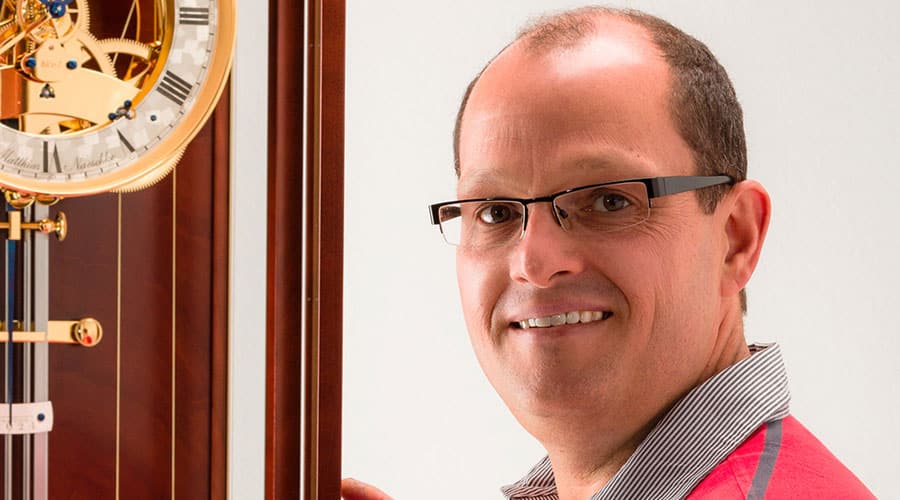 Factory for fine hand-crafted clocks
Even 150 years ago there were many clock-makers undertaking the creation of fine hand-made clocks. Today, however, this traditional craft, the art of fine clock-making, is almost extinct. But there are still the makers who construct with painstaking hand-work and produce in countless individual steps the exclusive and personalised clocks for well furnished living spaces. And these are unique for eternity. One of them is their small clock factory in southern Germany.
Crafted perfection for highest demands
This starts with the design and construction of the gilded or rhodium plated movements. The design of the cabinet is finalised together with the design and manufacture of dials and hands. Almost all parts of their clocks are made in their horological workshop. Even the smallest wheels and pinions are manufactured in-house, hardened, mirror-polished and perfected until they meet the highest possible standards of their meticulous clock-makers.
Their clocks are made for passionate devotees who never want to miss the constant motion of a pendulum or who adore the beauty and precision of a movement, built into an elegant, aesthetically pleasing cabinet. This philosophy is to do justice to the demands of the highest standards of living and quality of life. Each clock that leaves the workshop is a unique masterpiece – built in traditional craftsmanship to last for generations – as it was 150 years ago.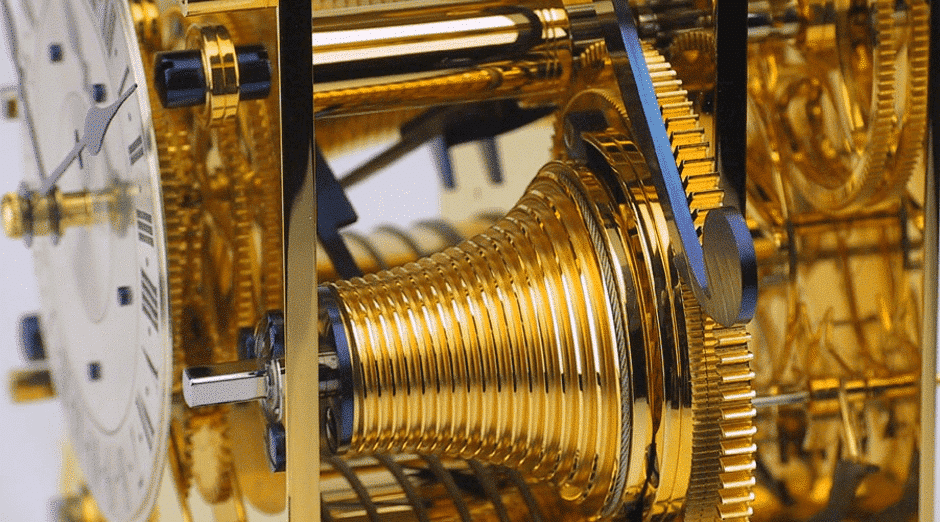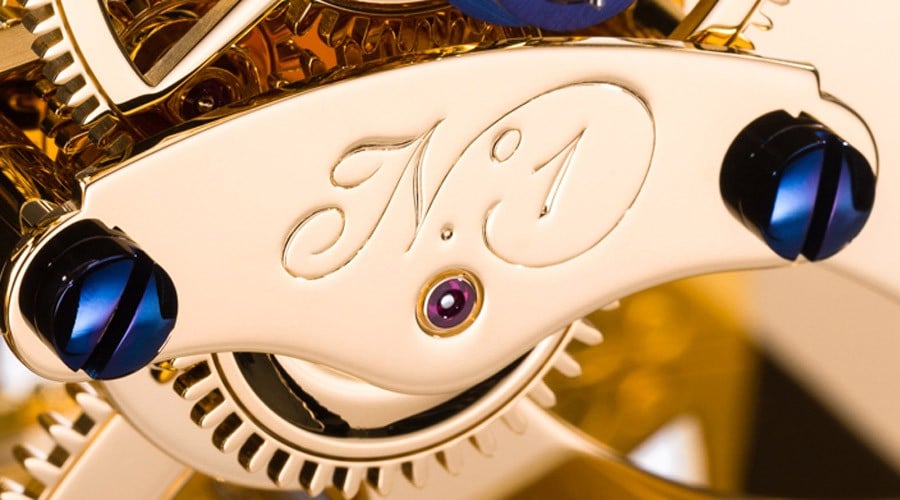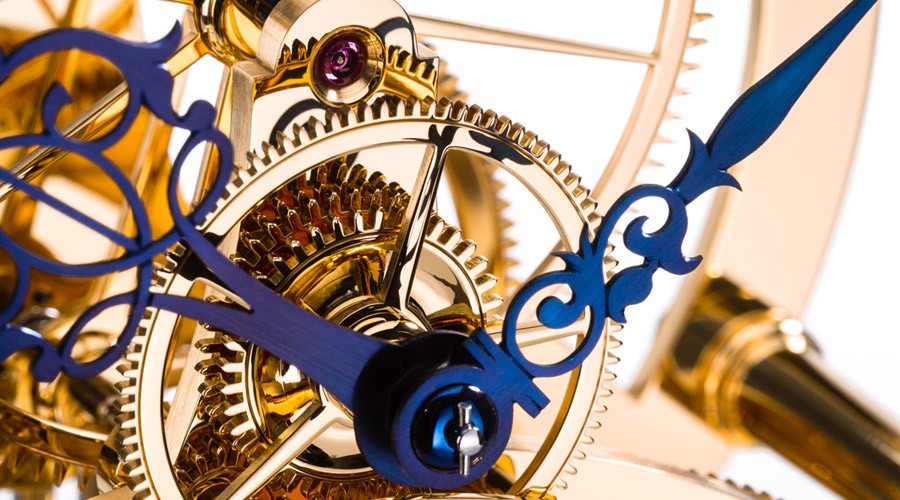 Clock movements - The true heart of every Naeschke clock
"Whoever is satisfied with the good, will never reach the best."
This quotation satisfies the philosophy, development and scrutiny of any clock movement made in the clockworks of Matthias Naeschke. All their designs are created on the foundation of being one of the best hand-crafted movements in the world.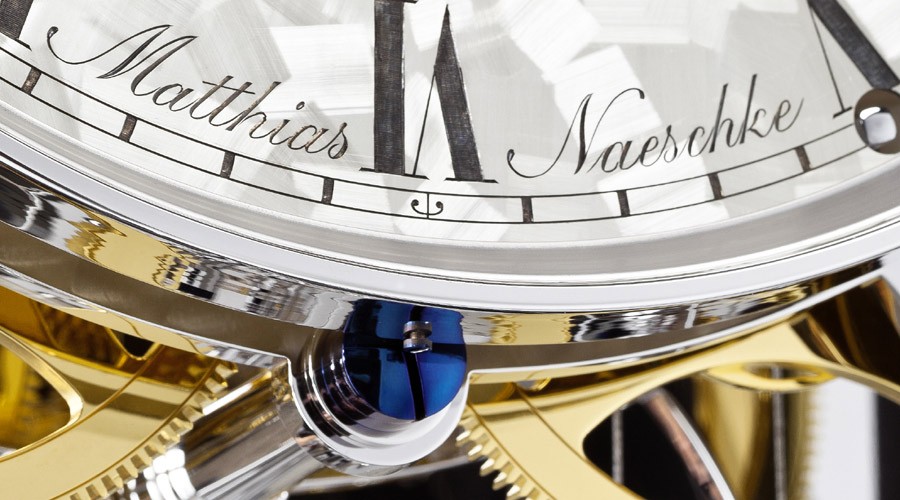 However, that philosophy alone is not sufficient to establish this claim. Each new movement is a continuation of the ancient art of clock-making, combined and complemented with new, innovative ideas. Starting from its final function it is designed and meticulously crafted because only when it is thoroughly well planned in advance, will it provide lasting quality.
Their declared aim is technical perfection
Aesthetic features of the movement are also essential to draw the viewer into its spell. Secrets and functional processes are made visible and comprehensible by artful cutouts in the massive main plates. Solid, well-shaped pillars form the foundation of any Matthias Naeschke movement and precision gearing guarantees a uniform power transmission and has a fundamental influence on the long term accuracy of the clock. Their escapements are all their own designs and optimised for the respective application in a particular movement.
Their long running clocks are unique in the world
From the first marking of the raw material to the finished assembled movement, all steps of fabrication are executed by the sensitive hands of their clock-makers with a constant urge for absolute perfection. Seeking for lowest possible friction, they were the first clock-makers ever to use stainless precision ball bearings in their movements. Ruby bearings are used where they are required for technical reasons. Over the years, round ruby pallets and extremely large escape wheels have become an unmistakable hallmark of their movements. They are the only clock manufacturer world-wide that produces long running clocks such as their four year runner. With the high quality standards imposed on themselves they can create only a very limited quantity of their premium clock movements in their factory every year.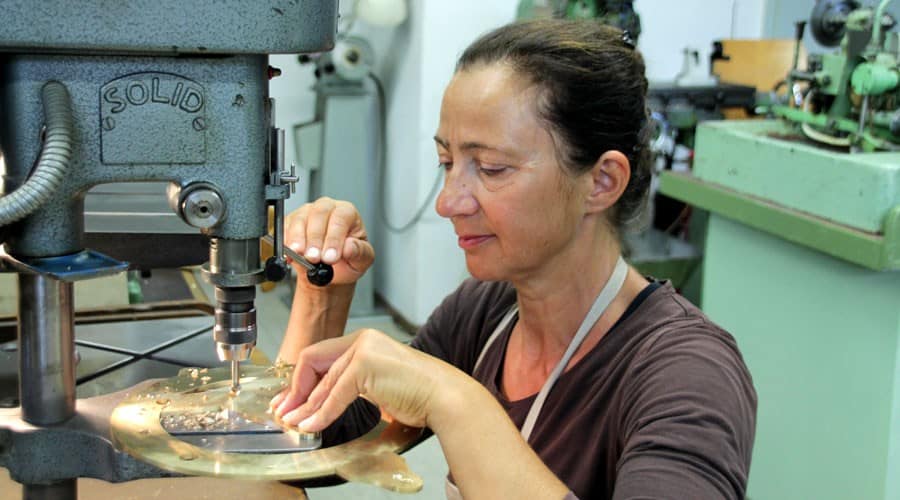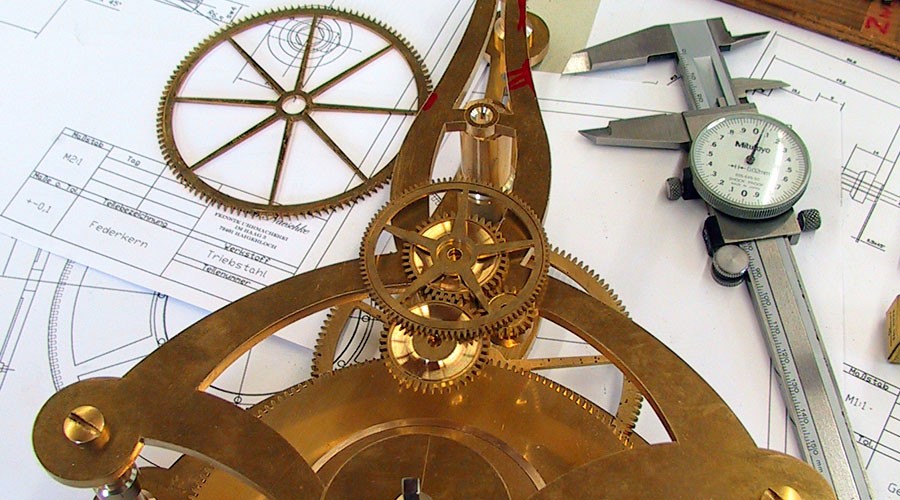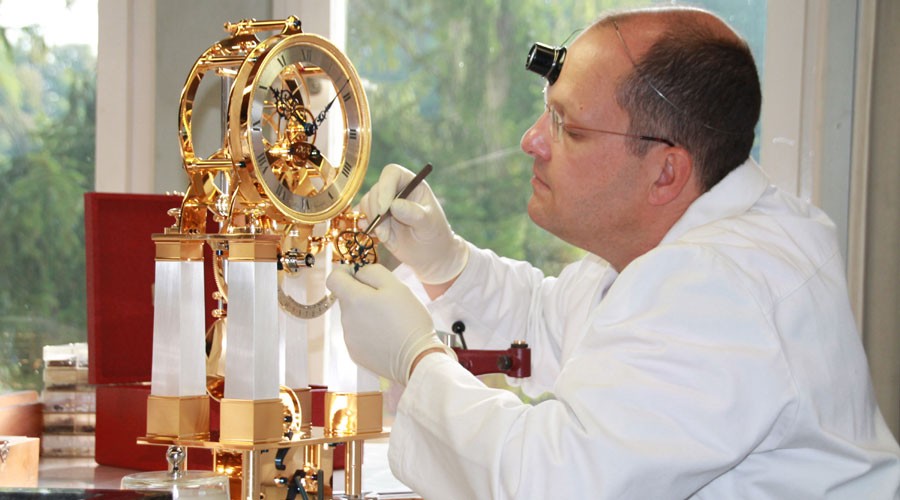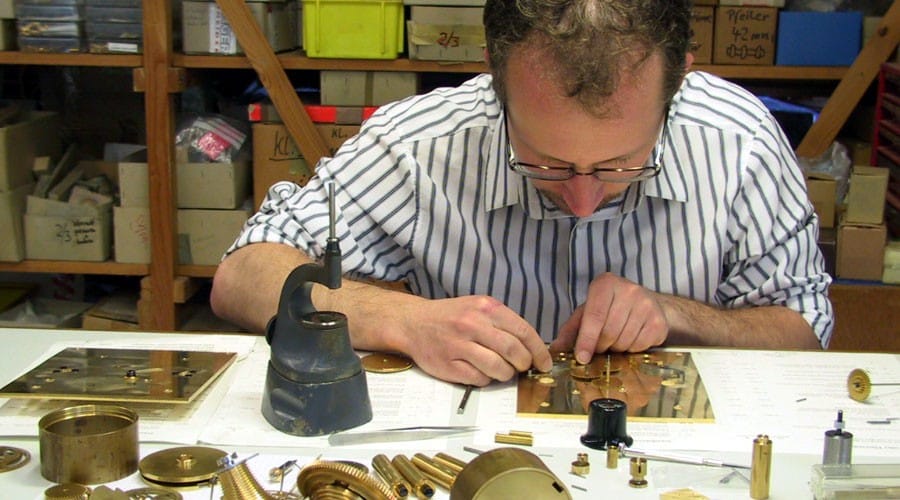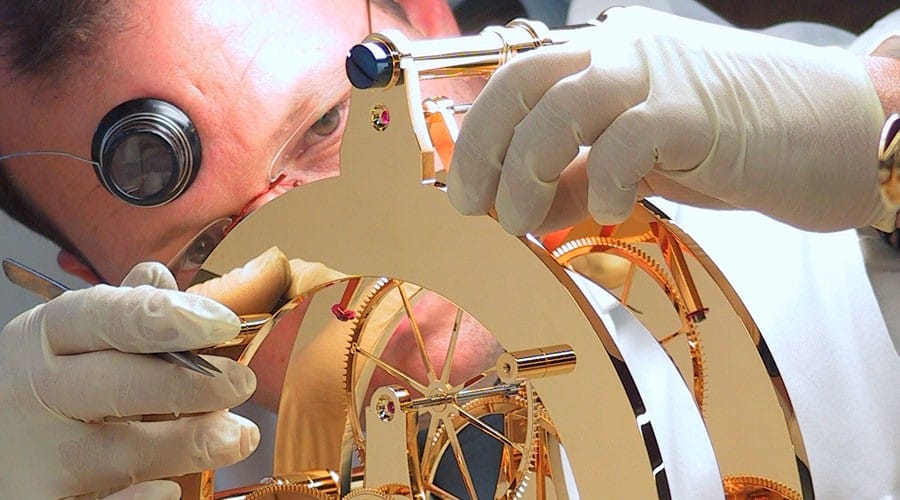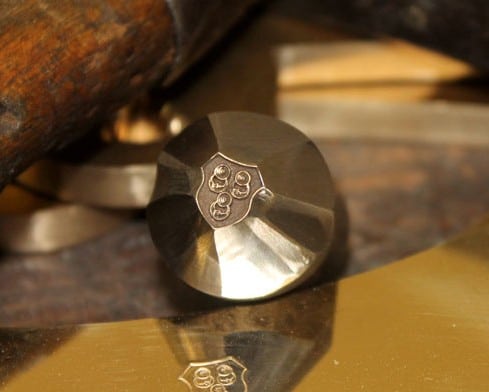 The embossed coat of arms:
Seal of quality of their factory-movements
An embossed coat of arms is seal of quality and recognition of all their clock movements. It is a distilled representation of the ancestral family emblem of the Naeschke family from the 17th century. No clock – whether long-case clock, table clock, regulator or organ clock – leaves their factory without this signature embossed on one of the main plates.
The clock case

Presentation embodying the highest standards of quality and design
A clock case of Matthias Naeschke is not restricted to the trivial function of protection of a clock movement. It is part of the overall concept of a fine sense of style and expression for a clock. At the conception of a new clock there is always a time consuming process of designing the movement and the shape of the case. Materials are chosen and research undertaken to engage particular workshops for specialities that cannot be made in-house. Be it fine woods such as cherry, walnut or ebony, perhaps a pedestal of granite, marble or other exclusive stones. But only the best is good enough to maintain our high standards.
High quality inlays of ebony, burl, and mother of pearl and silver are used as design elements. Whether satin or highly polished surfaces, the varnishing of a Naeschke case is a very time consuming process. Time that is well invested to become a high-quality enclosure for a highly finished Naeschke movement.
High-quality materials are paired with elaborate finishing
The massive glass canopies of our table clocks are manufactured in-house. The frame components can only be finished when the angles are machined with absolute precision and the corner elements are precisely tailored to the struts. By manual grinding under water in several complex operations and using ever finer grain, the struts are prepared for the final high-gloss polish followed by gilding or rhodium plating.
The surfaces of the exquisite stone slabs are cut, faceted and polished by grinding with dedicated machines and finally finished by hand. Gilded or rhodium-plated fittings of brass are mounted before a movement is installed into its preordained place. Bevelled glass panels in the cabinets, whether metal/stone combinations or fine wood reveal more subtle highlights and underline the high-end horological quality of our clocks.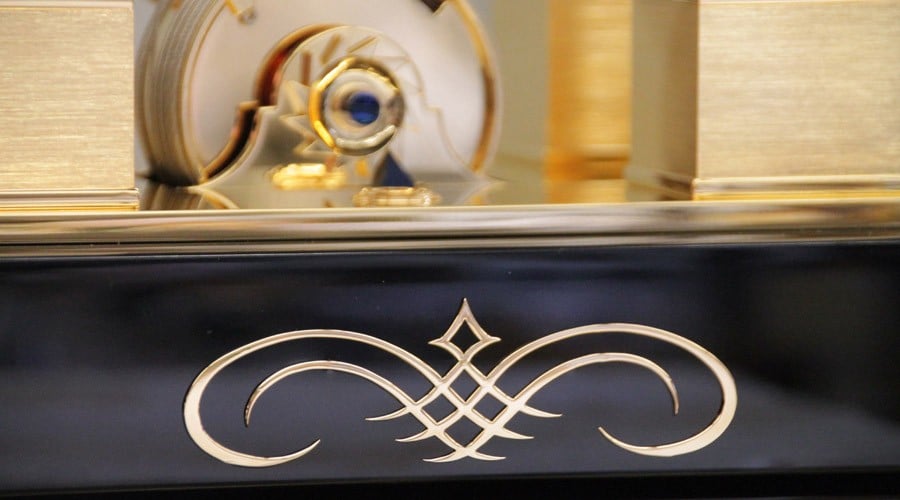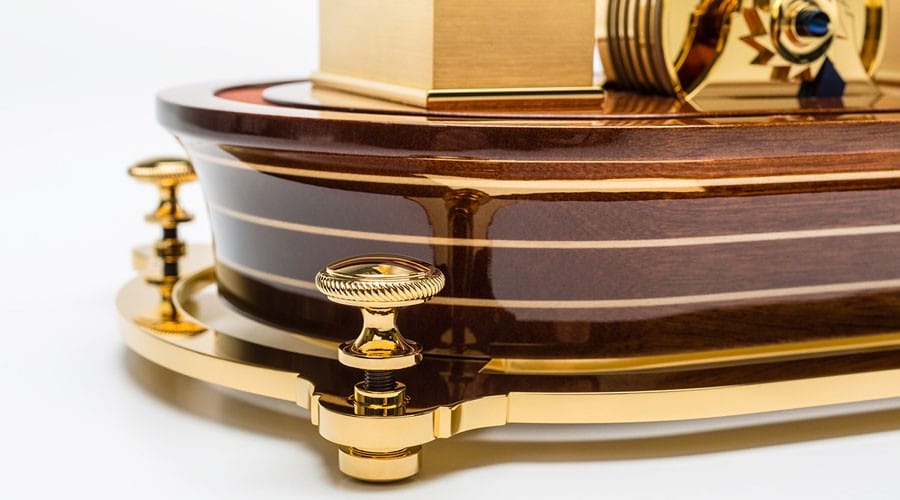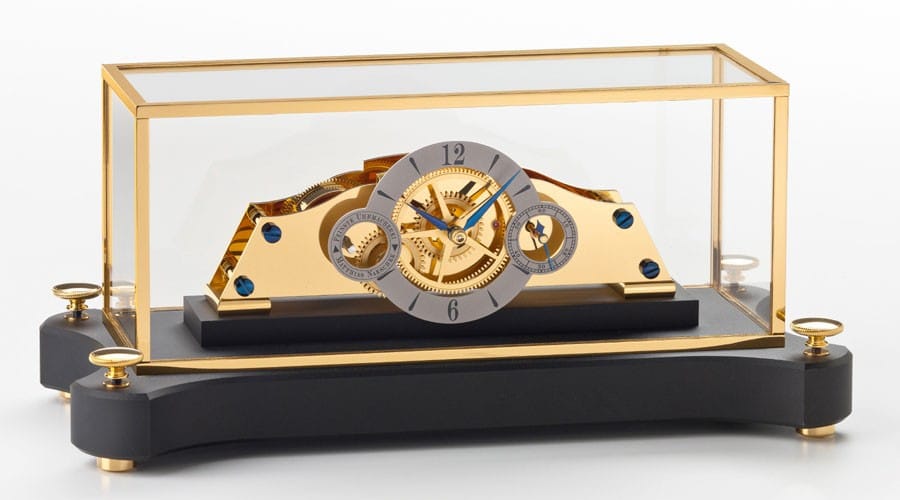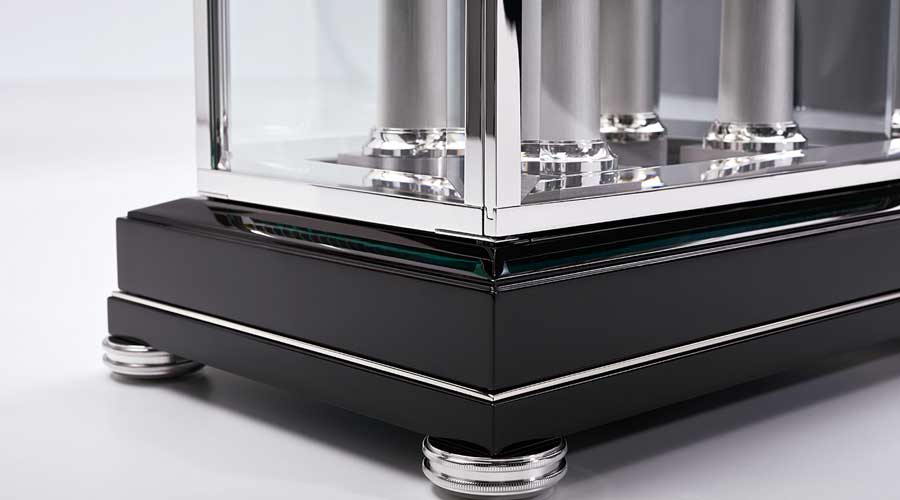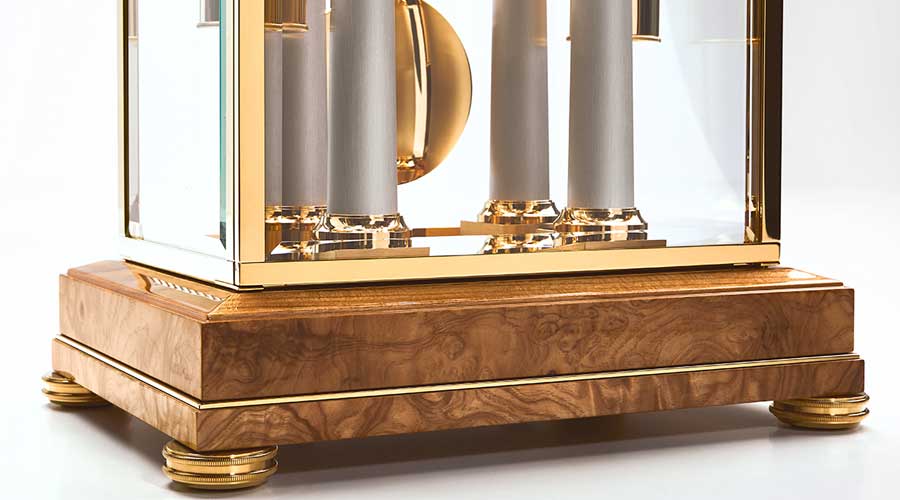 The Dial:
The exclusive face of all Naeschke clocks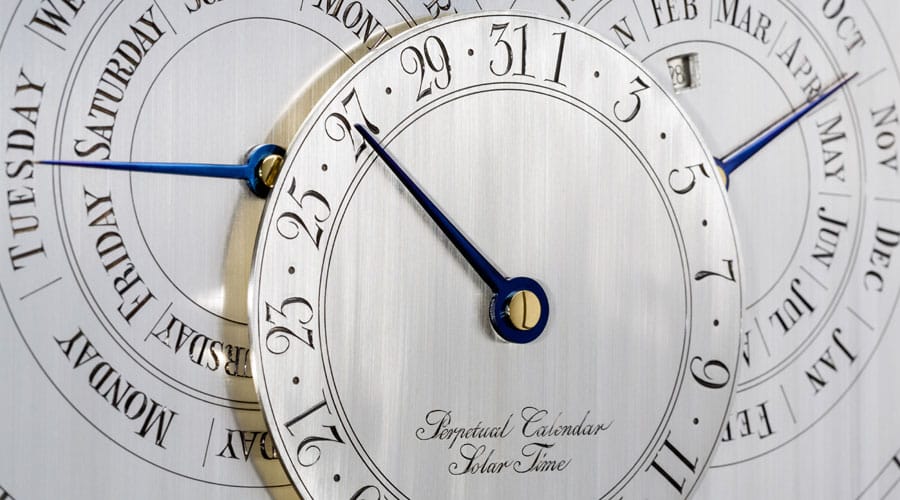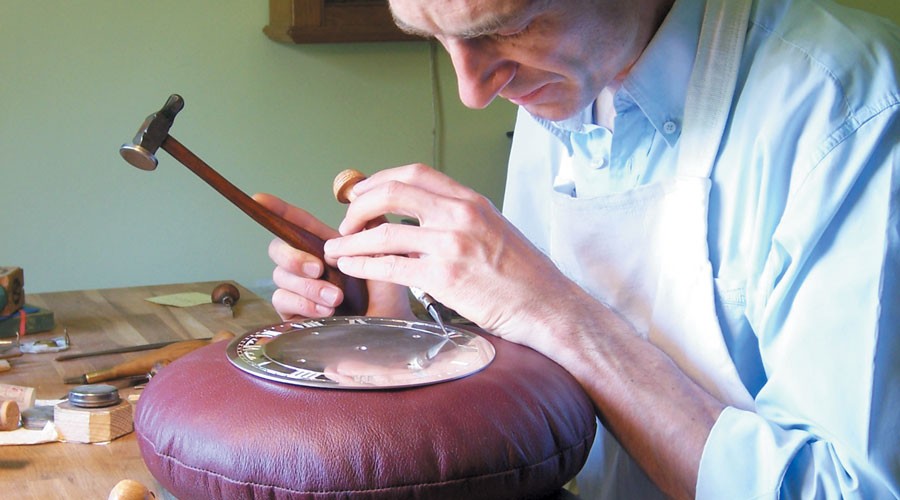 Not without reason the dial is mentioned in professional circles as being the face of a clock. In Matthias Naeschke clockworks much attention is devoted to this fact. Whether printed in Roman or Arabic numerals or engraved by hand, every line and every line thickness is precisely determined beforehand. Numerous variants of a dial can be designed, compared, discussed and the forms of hands are chosen. Then when the draft release is made by their clock-makers, a dial becomes part of an exclusive Matthias Naeschke clock movement.
Pure sterling silver in a thickness up to 1.5 mm is used as the base material for an experienced master engraver to transform into an outstanding dial or chapter ring. Cut by cut, he brings out the numbers and headings in this robust and lustrous material. A final hard clear finish coats the silver dial with lasting protection against tarnishing.
Other versions of their dials are coated with granulated silver and get a special lithographic printing. In contrast to screen printing, this procedure allows the finest line widths of one tenth of a millimeter or less. For organ clocks (or on special request) they use the classic enamel dial. The enamel is especially attractive if it is applied to a slightly curved surface.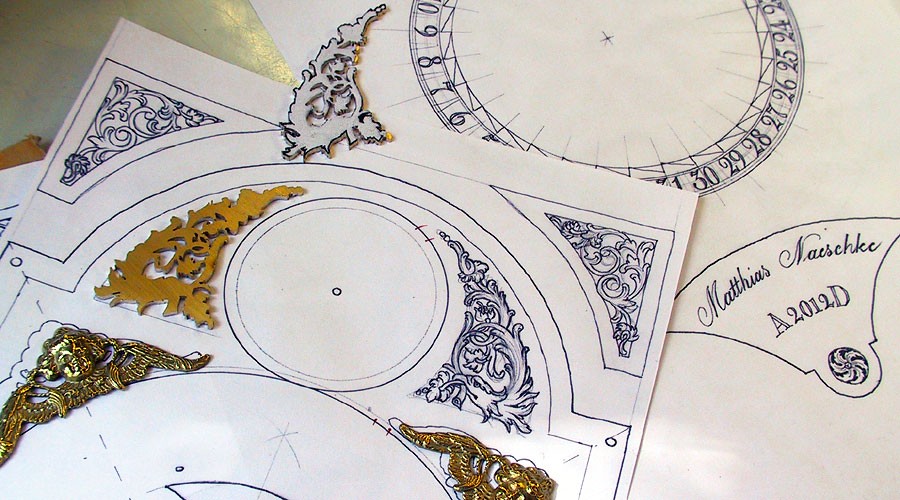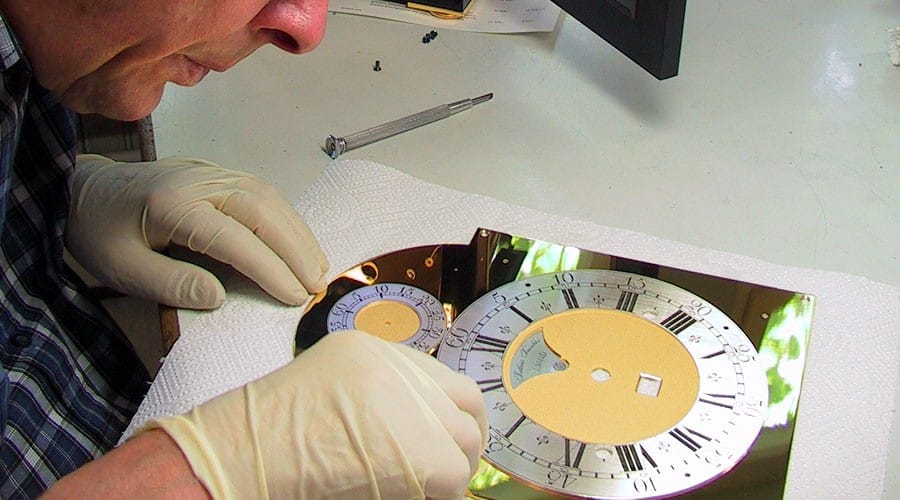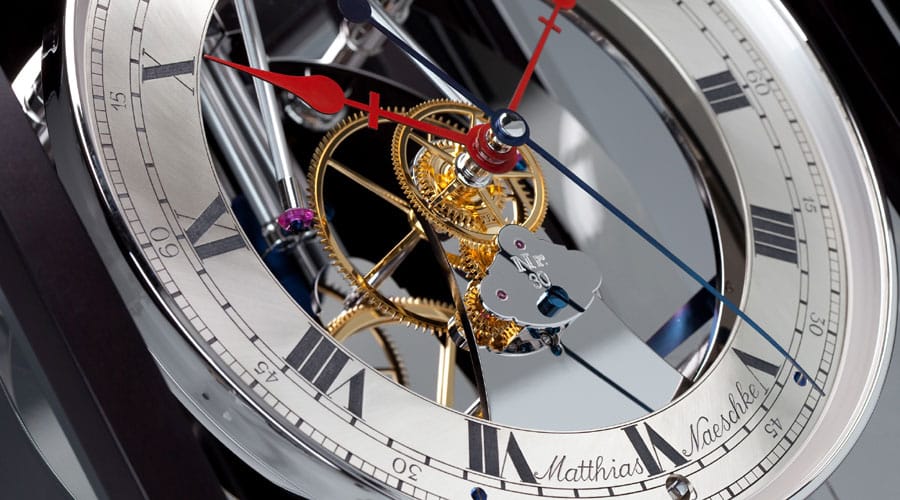 As unique as their future owner
Choosing an antique or industrially manufactured clock generally provides us a timepiece that does not correspond entirely to the personal taste. Certainly it will be missing the good feeling that this piece was made personally for its buyer.
In this respect the clocks of Naeschke clockworks are quite different as they offer their customers the opportunity to buy something extraordinary and unique. By making all clocks and movements by hand, they are extremely flexible in terms of implementation of individual customer requirements. The breadth of their capabilities ranges from the modification of their existing catalogue models through to completely new design and manufacturing of a bespoke one-off. Philosophically a customer's dream clock always takes centre place in all our designs.
Focus on the wish of the customer
Personal requirements are thus an incentive and basis to create something incomparable. The superior craftsman's perfection imparted to their movements is far above the reach of the best quality that any serial clock production methods can produce. Be it a very special case, an extravagant dial or special additional functions – Matthias Naeschke are dedicated to finding the perfect combination.
They have created individual clocks and organ clocks over more than three decades. And there are no two alike anywhere in the world.
---
We are a proud retailer of Matthias Naeschke clocks.  Please contact us for further details or peruse our current listing HERE.
Summary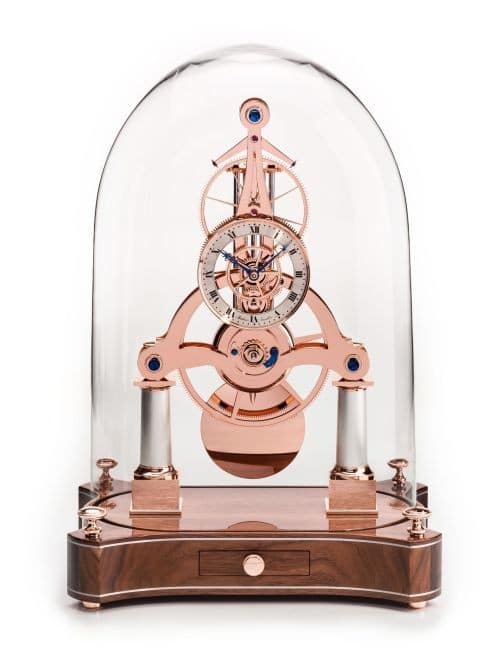 Article Name
Description
Product Review on Matthias Naeschke clocks. German Cuckoo Clock Nest is a proud distributor of these German-made prestige clocks.
Author
Publisher Name
Publisher Logo