[masterslider id="2″]
Welcome to Clocks.com.au
The CuckooClock Nest, a famous tourist destination and cultural icon on beautiful Tamborine Mountain located in the Gold Coast Hinterland. Family owned with over 20 years of experience, this world renowned clock emporium is now operated by second generation clock enthusiasts alongside a horological inspired team of Tamborine Mountain locals.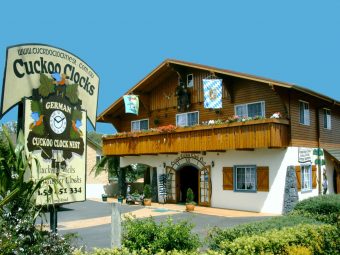 Raised on the wings of time, sibling duo Anton Schafroth and Stefanie Wernekinck have continued to preserve the mechanical forms of time in an ever changing technological world. The famous Bavarian Chalet features grand displays of Cuckoo Clocks, Mantle Clocks, Grandfather Clocks, Contemporary Clocks and Watches forging partnerships with prestige clock makers including Kieninger, Comitti, AMS, Hoenes and Engstler.
Wholesale Clocks Australia
We are professional clock specialists in every sense of the word, offering the highest quality and latest technology in clock craftsmanship, a wealth of product knowledge and importantly after sales support and assistance with technical repair. Our successsful online store has resulted in happy clocks to happy homes all over Australia and the world, with precious parcels being swiftly sent out daily from our Clock hub. Two on site workshops complete with clock doctors keep our repair business ticking over nicely. We have a weekly local white glove delivery service, and our retail store offers sales support 7 days from 10am to 4pm.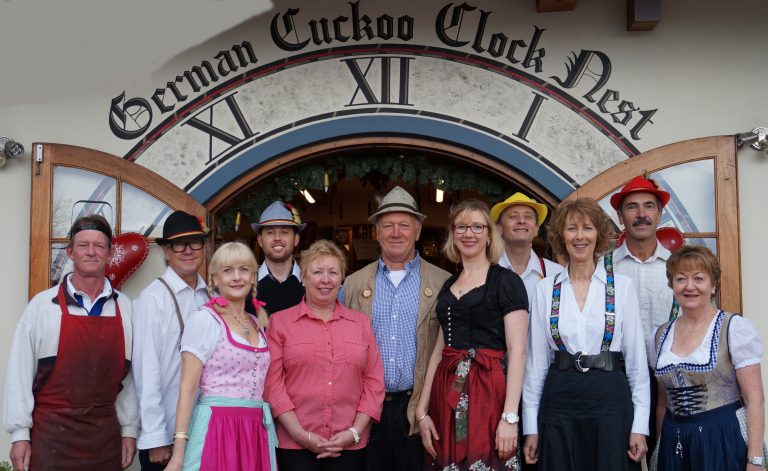 2017 sees the launch of yet another new website, bringing our customers into the realm of a virtual shopping experience with fantastic photos, videos, secure checkout, free call service, free shipping Australia wide and a virtual tour of the Retail Store. We pride ourselves on finding the right clock for each of our customers so please feel welcome to contact us for further assistance.
The success of our business is aligned with the stories and history of our products. In a throwaway society we pride ourselves on bringing quality timepieces to our customers. Many of our products are rich in history and resonate with all audiences through connecting the generations within the world.
As our timepieces are entrenched in history and celebrate our cultural heritage, we leave you with these words of ancient literature;
Carpe Diem (Sieze the Day), Tempus Fugit (Time Flies).

[/et_pb_text][/et_pb_column][et_pb_column type="1_4″][et_pb_sidebar area="et_pb_widget_area_2″ _builder_version="3.0.47″ remove_border="off" show_border="on"]
[/et_pb_sidebar][et_pb_image src="/wp-content/uploads/2017/03/free-shipping-1.gif" align="center" _builder_version="3.1.1″ animation_direction="left" use_border_color="off" border_color="#ffffff" border_style="solid" animation="left" sticky="off"]
[/et_pb_image][et_pb_image src="/wp-content/uploads/2017/03/freeshipping-over199.jpg" align="center" _builder_version="3.1.1″ animation_direction="left" use_border_color="off" border_color="#ffffff" border_style="solid" animation="left" sticky="off"]
[/et_pb_image][et_pb_image src="https://clocks.com.au/wp-content/uploads/2017/03/ep2-1-1.gif" align="center" _builder_version="3.1.1″ animation_direction="left" use_border_color="off" border_color="#ffffff" border_width="1px" border_style="solid" sticky="off"]
[/et_pb_image][et_pb_code _builder_version="3.1.1″]<!– Begin MailChimp Signup Form –><!– [et_pb_line_break_holder] –><link href="//cdn-images.mailchimp.com/embedcode/classic-10_7.css" rel="stylesheet" type="text/css"><!– [et_pb_line_break_holder] –><style type="text/css"><!– [et_pb_line_break_holder] –> #mc_embed_signup{background:#fff; clear:left; font:14px Helvetica,Arial,sans-serif; }<!– [et_pb_line_break_holder] –> #mc_embed_signup h2{<!– [et_pb_line_break_holder] –> color:#66cc99;<!– [et_pb_line_break_holder] –> }<!– [et_pb_line_break_holder] –> /* Add your own MailChimp form style overrides in your site stylesheet or in this style block.<!– [et_pb_line_break_holder] –> We recommend moving this block and the preceding CSS link to the HEAD of your HTML file. */<!– [et_pb_line_break_holder] –></style><!– [et_pb_line_break_holder] –><div id="mc_embed_signup"><!– [et_pb_line_break_holder] –><form action="https://clocks.us16.list-manage.com/subscribe/post?u=c8e8e4882b0461141cd599fb4&id=88da5ff5da" method="post" id="mc-embedded-subscribe-form" name="mc-embedded-subscribe-form" class="validate" target="_blank" novalidate><!– [et_pb_line_break_holder] –> <div id="mc_embed_signup_scroll"><!– [et_pb_line_break_holder] –> <h2>Sign up for exclusive discounts and offers!</h2><!– [et_pb_line_break_holder] –><div class="indicates-required"><span class="asterisk">*</span> indicates required</div><!– [et_pb_line_break_holder] –><div class="mc-field-group"><!– [et_pb_line_break_holder] –> <label for="mce-EMAIL">Email Address <span class="asterisk">*</span><!– [et_pb_line_break_holder] –></label><!– [et_pb_line_break_holder] –> <input type="email" value="" name="EMAIL" class="required email" id="mce-EMAIL"><!– [et_pb_line_break_holder] –></div><!– [et_pb_line_break_holder] –><div class="mc-field-group"><!– [et_pb_line_break_holder] –> <label for="mce-FNAME">First Name </label><!– [et_pb_line_break_holder] –> <input type="text" value="" name="FNAME" class="" id="mce-FNAME"><!– [et_pb_line_break_holder] –></div><!– [et_pb_line_break_holder] –> <div id="mce-responses" class="clear"><!– [et_pb_line_break_holder] –> <div class="response" id="mce-error-response" style="display:none"></div><!– [et_pb_line_break_holder] –> <div class="response" id="mce-success-response" style="display:none"></div><!– [et_pb_line_break_holder] –> </div> <!– real people should not fill this in and expect good things – do not remove this or risk form bot signups–><!– [et_pb_line_break_holder] –> <div style="position: absolute; left: -5000px;" aria-hidden="true"><input type="text" name="b_c8e8e4882b0461141cd599fb4_88da5ff5da" tabindex="-1″ value=""></div><!– [et_pb_line_break_holder] –> <div class="clear"><input type="submit" value="Subscribe to list" name="subscribe" id="mc-embedded-subscribe" class="button"></div><!– [et_pb_line_break_holder] –> </div><!– [et_pb_line_break_holder] –></form><!– [et_pb_line_break_holder] –></div><!– [et_pb_line_break_holder] –><script type=&#039;text/javascript&#039; src=&#039;//s3.amazonaws.com/downloads.mailchimp.com/js/mc-validate.js&#039;></script>[/et_pb_code][/et_pb_column][/et_pb_row][/et_pb_section][et_pb_section bb_built="1″ admin_label="section" specialty="on" parallax_method_1="off" parallax_method_2="off" custom_css_main_2=" background: #e8edf1;" module_class="home-section3″ _builder_version="3.0.47″ background_image="https://clocks.com.au/wp-content/uploads/2017/03/seigaiha.png" custom_css_main_element="background-repeat: repeat;||background-size: 400px;" transparent_background="off" prev_background_color="#ffffff" next_background_color="#ffffff"][et_pb_column type="3_4″ specialty_columns="3″][et_pb_row_inner parallax_method_1="off" module_class="shop-section" _builder_version="3.0.47″][et_pb_column_inner type="4_4″ saved_specialty_column_type="3_4″][et_pb_text _builder_version="3.1.1″ header_font="|on||on|" header_text_color="#87403b" header_6_font="|700|||||||" header_6_font_size="30px" use_border_color="off"]
FEATURED PRODUCTS
[/et_pb_text][et_pb_shop posts_number="6″ orderby="date-desc" module_class="woox" _builder_version="3.1.1″ type="featured" columns_number="0″]
[/et_pb_shop][/et_pb_column_inner][/et_pb_row_inner][et_pb_row_inner admin_label="Row" _builder_version="3.0.47″][et_pb_column_inner type="4_4″ saved_specialty_column_type="3_4″][et_pb_image src="/wp-content/uploads/2017/03/shipping.jpg" url="http://e-path.com.au/accept-credit-cards-online.html" url_new_window="on" align="center" force_fullwidth="on" _builder_version="3.0.47″ animation_style="fade" animation_duration="500ms" custom_css_main_element=" border: 1px solid #e2e2e2;|| box-shadow: 0px 0px 44px rgba(0, 0, 0, 0.46);" use_border_color="off" border_color="#ffffff" border_style="solid" animation="fade_in" sticky="off" animation_intensity_slide="10%" animation_direction="center" show_bottom_space="on"]
[/et_pb_image][/et_pb_column_inner][/et_pb_row_inner][/et_pb_column][et_pb_column type="1_4″][et_pb_text _builder_version="3.0.47″ text_font="|on||on|" background_size="initial" background_position="top_left" background_repeat="repeat" use_border_color="off" border_style="solid"]
CURRENT TOP SELLERS
[/et_pb_text][et_pb_shop posts_number="4″ _builder_version="3.1.1″]
[/et_pb_shop][/et_pb_column][/et_pb_section][et_pb_section bb_built="1″ _builder_version="3.0.74″ transparent_background="off" prev_background_color="#000000″ next_background_color="#87403b" global_module="2379″][et_pb_row global_parent="2379″ _builder_version="3.0.47″ background_size="initial" background_position="top_left" background_repeat="repeat"][et_pb_column type="4_4″][et_pb_text global_parent="2379″ _builder_version="3.12.2″ text_font="|on|||" text_font_size="35″ background_size="initial" background_position="top_left" background_repeat="repeat" text_orientation="center" module_alignment="center" use_border_color="off" border_color="#ffffff" border_style="solid"]
Brands
[/et_pb_text][et_pb_text global_parent="2379″ _builder_version="3.1.1″ background_size="initial" background_position="top_left" background_repeat="repeat" use_border_color="off" text_font="||||||||"]
[/et_pb_text][/et_pb_column][/et_pb_row][/et_pb_section][et_pb_section bb_built="1″ admin_label="section" background_image="https://clocks.com.au/wp-content/uploads/2017/03/clock-x.png" transparent_background="off" background_color="#87403b" allow_player_pause="off" inner_shadow="off" parallax="off" parallax_method="off" make_fullwidth="off" use_custom_width="off" width_unit="on" make_equal="off" use_custom_gutter="off" fullwidth="off" specialty="off" disabled="off" prev_background_color="#ffffff" global_module="390″][et_pb_row admin_label="row" global_parent="390″ make_fullwidth="off" use_custom_width="off" width_unit="off" custom_width_px="1080px" custom_width_percent="80%" use_custom_gutter="off" gutter_width="2″ allow_player_pause="off" parallax="off" parallax_method="on" make_equal="off" parallax_1="off" parallax_method_1="on" parallax_2="off" parallax_method_2="on" parallax_3="off" parallax_method_3="on" parallax_4="off" parallax_method_4="on" disabled="off" background_position="top_left" background_repeat="repeat" background_size="initial"][et_pb_column type="4_4″][et_pb_cta global_parent="390″ title="View All of Our On-Sale Items" button_url="/shop/" url_new_window="off" button_text="Shop Now" use_background_color="off" background_color="#2caaca" background_layout="dark" text_orientation="center" use_border_color="off" border_color="#ffffff" border_style="solid" custom_button="on" button_bg_color="#d26e4b" button_border_width="3″ button_border_color="#ffffff" button_letter_spacing="0″ button_use_icon="default" button_icon_placement="right" button_on_hover="on" button_letter_spacing_hover="0″ disabled="off" background_position="top_left" background_repeat="repeat" background_size="initial"]
For a limited time only, selected items are on special
[/et_pb_cta][/et_pb_column][/et_pb_row][/et_pb_section]